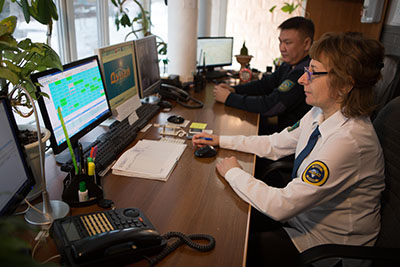 Security monitoring of the facilities is performed by 24 hour remote monitoring of the situation at the facility using modern satellite systems and systems of fire security alarms. In case of emergency situation at the facility (attack, breaking in, inflammation) the call center receives a signal which is transferred by phone line, to the channel of the GSM mobile operator, after that to the secured facility leaving mobile groups of the law enforcement authorities or emergency groups of the Ministry of Emergency Situations.
Mobile group ALMAZ SECURITY – 24 hour services of emergency help to the clients in case of emergency situation. The team of the Mobile group consists of highly qualified personnel of ALMAZ SECURITY Company that passed through special preparation.
Security alarm – absolute prevention of any illegal entrance to the secured room or secured territory. Security alarm system will allow to control the secured room or territory during 24 hours per day.
Alarm system – emergency call of the armed group which will arrive during 4-5 minutes within Astana.
Fire alarm is complicated complex of technical devices which responding to smoke, change of air temperature by means of special transmitters, which transferring alarm signals to the fire alarm desk for calling emergency divisions.